Powder dispensing booth manufacturers in Chennai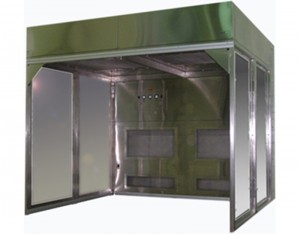 Dispensing Booths with its open-fronted design, this type of system affords comfort of access for product, operator and environment. Reverse laminar flow powder dispensing booths (Also called powder containment booths) protects the operators from toxic chemicals / raw materials used for manufacturing of tablets, medicines, capsules etc from external contamination during the process of weighing or measuring. It is ideal where a high degree of flexibility is desired. Containment is achieved by air movement. Our down flow booths are workstation are available in a variety of air-handling models.
When the Booths is operating under normal conditions air is pulled through the main working chamber to exhaust grills, normally situated in the rear of the Booths, suppressing air-borne dust away from the operators breathing zone. Down flow Booths and Workstation provide a safe, controlled working environment and are called upon to carry out a wide range of operations.
Designed in accordance with WHO-GMP
3-Stage Filtration like Pre filter, Fine Filter, HEPA filter
Heavy duty Low noise motor blower assembly
Suitable to accommodate to floor & table top for keeping weight machine
Type: Front Open
Direction of flow: Vertical
Cleanliness: Class 100 as per US FED STD 209E (IS 14644-1)
Equivalent Velocity pressure in mm of WG: 15 mm in filter plenum
Particle Retention: 0.3 micron
Noise Level: 65dB on Scale 'A' ± 5
Velocity: 100 FPM ± 20%
Pressure Differential: 0-25 mm Magnehelic Gauge WG
Power Supply: 230V Single Phase, 50 Hz
Pre-Filters: EU 3 grade, Non Oven Synthetic Media washable pre filter
Front Elevation: PVC Curtain (clear)
Intermediate Filters: 3 micron & above, HDPE woven mesh, 9 mm Pressure Drop, Efficiency 97%
HEPA Filters: – Pleat HEPA 99.97% efficiency @ 0.3 micron rating
Blower Assembly: Statically & dynamically balanced RPM single phase blower
Powder dispensing booth manufacturers in Chennai,Powder dispensing booth manufacturers in Chennai,Powder dispensing booth manufacturers in Chennai,Powder dispensing booth manufacturers in Chennai,Powder dispensing booth manufacturers in Chennai,Powder dispensing booth manufacturers in Chennai,Powder dispensing booth manufacturers in Chennai,Powder dispensing booth manufacturers in Chennai,Powder dispensing booth manufacturers in Chennai,Powder dispensing booth manufacturers in Chennai,Powder dispensing booth manufacturers in Chennai,Powder dispensing booth manufacturers in Chennai,Powder dispensing booth manufacturers in Chennai,Powder dispensing booth manufacturers in Chennai,Powder dispensing booth manufacturers in Chennai,Powder dispensing booth manufacturers in Chennai,Powder dispensing booth manufacturers in Chennai,Powder dispensing booth manufacturers in Chennai,Powder dispensing booth manufacturers in Chennai,Powder dispensing booth manufacturers in Chennai,Powder dispensing booth manufacturers in Chennai,Powder dispensing booth manufacturers in Chennai,Powder dispensing booth manufacturers in Chennai,Powder dispensing booth manufacturers in Chennai,Powder dispensing booth manufacturers in Chennai,Powder dispensing booth manufacturers in Chennai,Powder dispensing booth manufacturers in Chennai,Powder dispensing booth manufacturers in Chennai,Powder dispensing booth manufacturers in Chennai,Powder dispensing booth manufacturers in Chennai,Powder dispensing booth manufacturers in Chennai,Powder dispensing booth manufacturers in Chennai